Sale!
What are Denssi Nicotine Pouches
Denssi is a brand of Nicotine Pouch that originates from Sweden. It stands out from any other brand of Nicotine Pouch on the market with it's strong and mouth freezing effect with every single pouch you use! These really are not for the feint hearted! If ice and cool effects areyour thing with Nicotine Pouches, Denssi is the brand for you!
Does Denssi nicotine pouches have tobacco in?
No, Denssi Nicotine Pouches do not contain any trace of tobacco in. Snus pouches are what contains tobacco, and they are illegal to be sold in the UK.
What flavours are available to buy?
Denssi Brain Freeze – Fresh minty flavour with extra cool added!
Denssi Spearmint – A cool sweet mint flavour!
Denssi Watermelon Freeze – A sweet and natural Watermelon flavour!
Denssi Strawberry Freeze – A sweet Strawberry flavour!
Denssi Mango Freeze – A rich exotic tasting Mango flavour!
How do I know what strength nicotine pouch to use?
Denssi would be suitable for someone who does have a low tolerance for Nicotine due to the low Nicotine content they come in. Or for someone who was a light smoker and looking to make the switch from smoking to nicotine pouch use.
Is the nicotine that's used in Denssi pouches harmful?
No, Nicotine is not harmful. Many believe Nicotine to be one of the cancer causing chemicals in a cigarette/tobacco but there has not been any scientific proven evidence that Nicotine is harmful to a person, not can it lead to any long term health problems or cause cancer.
Denssi
Denssi is a brand that features a unique but VERY strong cooling effect when they are placed in the mouth. This effect can be very intense and may not be suitable for someone who is new to using Nicotine Pouches or someone who does not like an icy/cool/cold effect when using Nicotine Pouches. This product is recommended only for experienced Nicotine Pouch users, and even experienced users have reported of this sensation being overwhelming so please take care when using Denssi.
How many nicotine pouches are in a can of Denssi?
Each can of Denssi Nicotine Pouches contains 25 individual nicotine pouches.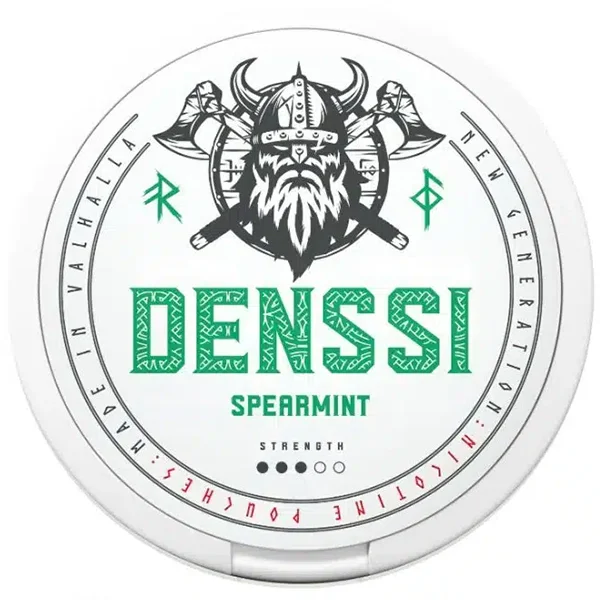 What nicotine strengths does Denssi come in?
Denssi comes in 4mg Nicotine Strength.
How do I use Denssi Nicotine Pouches?
Simply take a Denssi Nicotine Pouch out of the can, and place it in the your mouth so it rests between your gum and upper lip. You will start to feel a strong tingling and cool sensation, and the nicotine will be absorbed into your system almost instantly, and last for around 45-60 minutes per pouch. It is not recommended to use more than one Denssi Nicotine Pouch at once.
Ready to switch to Denssi?
Want to read more about nicotine pouches or are you ready to give it a shot? Read more from our blog on how you can quit smoking and switch to nicotine pouches or check out our most liked products. You can find us on Facebook and Instagram!