Product Review – DIP Polar mint
Today we got our hands on Dip Polar Mint nicotine pouches and have a chance to review them. DIP Nicotine Pouches are one of the newest brands of Nicotine pouches to be introduced onto the UK market, so you may not have heard of them before as they are currently only sold right here on Snusmail.
In this article, I'm going to give a little insight to what DIP Nicotine Pouches are all about, as well as an honest and open product review after recently trying these fantastic pouches out for myself after hearing the buzz about them!
DIP Nicotine Pouches
DIP Nicotine pouches are a new brand of Nicotine pouches that are made in a state-of-the-art facility in the North of England.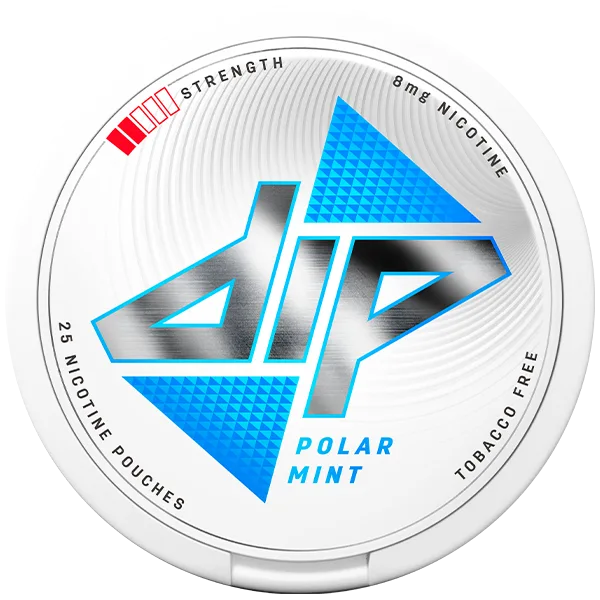 The minds behind DIP Nicotine Pouches share over a decade of experience in creating the highest quality nicotine-based products to help increase harm reduction by offering tobacco-free alternatives for people who still want to get their Nicotine fix, without having to ingest the hundreds, if not thousands of toxins and chemicals that are found in cigarettes.
DIP comes in three great flavours: Blueberry Ice, Ice Cool Mint, and Polar Mint. Polar Mint comes in an 8mg Nicotine strength, whilst Blueberry Ice and Ice Cool Mint comes in a stronger 12mg nicotine strength.
What is unique about DIP Nicotine Pouches?
DIP Nicotine Pouches uses Nicotine Alkaloids in every pouch, to give an authentic nicotine hit similar to what is obtained from smoking a cigarette, just without having to smoke a cigarette itself! But what are Alkaloids I hear you ask?
Nicotine belongs to a family of compounds called Alkaloids that naturally occurs and is found in a tobacco plant. These are the things that give off the psychoactive effects of tobacco and nothing else.
A team of experts have worked tirelessly to test, analyse, and create the full spectrum of Alkaloids, including nicotine, and made powdered nicotine that is included it into DIP nicotine pouches for you to enjoy. These alkaloids will give you the exact same satisfaction of pleasure as what you would have previously obtained from a cigarette, just without the smoke and harmful toxins and chemicals that are found in a cigarette!
My review of DIP Polar Mint Nicotine Pouches
I recently got the opportunity to try and review DIP Polar Mint Nicotine pouches, and thought I would give my thoughts on them below for you to read, and see if they would be the right nicotine pouch brand for you to use!
First Impressions
When I took the can of DIP out of the mailer bag I received them in, I was instantly drawn to how good and vibrant the label and can design is, it's super eye catching and would definitely stand out over any other designs in a line up.
Featuring a shiny metallic "DIP" logo, as well as metallic blue shapes on a grey, it really does pop out at you when you look at it. The outer can label has all necessary safety information, flavour, nicotine strength and features the metallic blue triangle shape design all around the can.
Ingredients and Safety Information
On the bottom of the can, it features a clear and precise list of all ingredients used in the can, as well as the relevant safety information as well as information about where the nicotine pouches are made within the UK.
It also highlights the fact that these are tobacco free, which is the same as any other nicotine pouch on the market. SNUS pouches are what contains tobacco and are not legal to be sold in the UK.
Opening the Can
It's really easy to open the can and access the pouches, as the seal around the edge is simple a perforated edge which can be broken by simply running your fingernail around the can to break the seal. The top also features a compartment to dispose of your discarded pouches which is really convenient for if you're on the go and can't access a bin to dispose of them. The lid snaps firmly in place each time and is easy to open as well.
The pouches
Now we get on to the main part and what I'm sure you're all wanting to know, and that is just how good are DIP Nicotine Pouches? When I opened the can, the smell of mint instantly hit me, and I knew I was in for a treat. The pouches are neatly packed in the can, and are a similar size to most pouches on the market, that aren't an extra-large design or anything.
When I placed the pouch in my mouth, I got an instant tingly sensation in my gums from the pouch which I really enjoyed, it wasn't too overpowering, and was just right.
The flavour was brilliant, and really strong. The "polar" effect of the pouches really came through strong and left a cooling effect in my mouth which wasn't too overpowering. As a word of warning though, if you do not like strong cooling effects, opt for a different flavour as this is quite strong and definitely isn't for everyone!
The nicotine release was subtle and smooth throughout, with it only being an 8mg, it wasn't too overpowering in the slightest. I kept the pouch in for around about 40-45 minutes which is my usual time frame, and still felt the cooling effects, flavour and my nicotine cravings were satisfied. The pouch was comfortable when in place, and I didn't even notice it was there after a while. The size of the pouch also makes it discreet to use, as I asked others around me at the time if they could notice I had it in place, to which they could not.
Conclusion
Overall, after trying Dip Polar Mint I am very impressed by DIP Nicotine Pouches. Considering they are a new brand, there's always going to be scepticism about how good they are, but knowing the track history of the manufacturers, as well as their unique selling points such as using Nicotine Alkaloids, these really do stand out in the current crowd of Nicotine Pouches that are available.
You can buy DIP Nicotine Pouches right here on Snusmail and get them delivered straight to your door, so don't hesitate and buy them now!